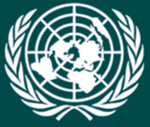 UN Stamps and UN Info

UN Related News:

Important Links
Reprinted From APRIL 11, 2005 LINN'S STAMP NEWS, Page #2

Czeslaw Slania, 1921-2005 Czeslaw Slania, the world's most prolific and well-known stamp engraver, died March 17 after a long period of illness. He was 83.

The court engraver for Sweden, Denmark and Monaco, he engraved stamps for 29 other countries, including the United States.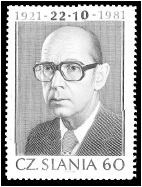 Czeslaw Slania (pronounced CHESS-wav SWANya) was born Oct. 22, 1921, near Katowice, Poland, to miner Ignacy Slania and his wife Josefa. When young Slania was 6, the family moved to Lublin, Poland.

As a child, he demonstrated talent for drawing, especially horses, and for producing miniature engravings.

After Nazi Germany invaded Poland in 1939, he joined the underground and helped forge documents.

Mr. Slania enrolled at age 24 at the Academy of Fine Arts in Krakow. While still a student, he worked for the Polish Stamp Printing Works, where he learned to engrave in steel.

Stamp engravers use a sharp tool called a burin to create a design by cutting lines, dashes and dots into a soft steel plate. The engraving is usually done in reverse, resulting in mirror image of the design.

On March 24, 1951, Poland issued the first stamp engraved by Slania, the 45-grosz 80th Anniversary of the Paris Insurrection and the Death of Gen. Jawoslaw Dabrowski (Scott 499). Mr. Slania did only the portrait.

A self-portrait of Czeslaw Slania, on a label he engraved for his 60th birthday. Mr. Slania engraved 23 stamps for Poland before leaving the country.

He eventually settled in Sweden in 1956. He began engraving stamps for Sweden Post in 1959, when its head engraver, Sven Ewert, became ill.

The first Swedish stamps Mr. Slania engraved were issued Feb. 18, 1960 (Scott 550- 52). The stamps honor painter and sculptor Anders Zorn.

Mr. Slania was named Sweden's court engraver in 1972. Of the 1,070 stamps he engraved, approximately 400 were for Sweden.

Mr. Slania's first stamp for the United States was the 20¢ U.S.-Sweden Treaty joint issue of 1983 (U.S. 2036, Sweden 1453). He also engraved Princess Grace stamps in a 1993 joint issue with Monaco (U.S. 2749, Monaco 1851).

His 1,000th stamp was issued March 17, 2000, for Sweden Post (Scott 2374). The stamp, which measures 60 millimeters by 81mm, is the world's largest engraved stamp. The stamp is in a souvenir sheet measuring 93mm by 125mm.

The stamp reproduces Great Deeds by Swedish Kings, a painting by David Klocker Ehrenstrahl on the ceiling of Drottninghholm Palace, the residence of the Swedish royal family.

The border of the sheet includes an inscription proclaiming that it is Slania's 1,000th stamp.

When asked by Linn's at the Ameripex stamp show in Chicago in 1986 what the favorite stamp he had engraved was, he replied that it was Sweden's 1983 Music souvenir sheet (Scott 1473), explaining that he liked the design he had to work with and was pleased with his work.

He later said of his 1,000th engraved stamp design, "It's my best stamp so far, but wait until I'm a hundred, it'll be even better."

Mr. Slania's final stamps were issued Feb. 4 by the United Nations Postal Administration to celebrate the 60th anniversary of the United Nations. The set includes three stamps and three souvenir sheets.

His last stamp for Sweden was the Elvis Presley stamp of 2004, jointly engraved with Piotr Nazsarkowski. The stamp was part of an Oct. 4, 2004, set honoring the 50th anniversary of rock 'n' roll.

Mr. Slania loved his work, spending as much as 10 to 12 hours each day engraving. He once said: "Patience and precision are the most important qualities for a stamp engraver.

One must have precision. For example, within a square millimeter, I can make hundreds of small incisions, and each must be of the same thickness and depth and there must be the same amount of space between them. And one cannot afford to make mistakes. One slip and the whole plate has to be scrapped. A month's work can be ruined in a second."

He had a sense of humor about his work, occasionally adding pictures of himself or family members or names of friends, girlfriends and relatives to stamp designs.

For example, Mr. Slania portrayed himself and coworkers on a 1973 Swedish stamp honoring the Vaasa Ski Race (Scott 994).

He told the Swedish newspaper Expressen in 1981, "I was sitting home on a Christmas Eve and had to finish the stamp after a photograph. None of the faces on the photo appeared clearly, so I couldn't engrave them clearly either . . . For at least having some clear faces on the stamp, I put ours in and chose my coworkers because I had their photographs at home. It was the first time my face appeared on a stamp that I have engraved myself."

He showed himself at work engraving on two U.N. stamps issued in 1986 to promote the hobby of stamp collecting (Scott U.N./New York 474, U.N./Vienna 63).

In his spare time, he engraved stamplike labels of movie stars and boxers.

These labels, like his stamps, are widely collected. Stamp societies in Denmark, Sweden and the United States are devoted to his work.

Although he worked engraving postage stamps for more than 50 years, Mr. Slania did not collect stamps.

In Lennart Bernadotte Presents Czeslaw Slania's Life Work, a tribute book published by Bernadotte in the late 1980s, Mr. Slania said: "During my school days, I was an avid collector of stamps — for my schoolmates.

"My father was continually traveling to foreign countries and continents and kept receiving postcards and letters with exciting stamps which interested my friends more than myself. I therefore collected stamps which my friends considered to be rarities and let them choose from my little notebook."

He later told Linn's in 1986 that, while he was not a stamp collector in the traditional sense, he did collect what he called "beautiful" stamps.

In addition to engraving stamps, Mr. Slania also engraved banknotes for 10 countries.

Mr. Slania received many awards and honors, including Great Britain's Royal Mail's Rowland Hill outstanding achievement award for his lifelong work in stamp engraving.

Mr. Slania also is recognized by the Guinness Book of Records for engraving the most stamps, for engraving the largest stamp (the aforementioned 1,000th stamp for Sweden) and for the fastest stamp engraving (5.5 days for Sweden's Olof Palme Memorial stamps issued April 11, 1986, Scott 1601-02).

In announcing his death, Britt-Inger Hahne, managing director of Sweden Post Stamps, said: "A great artist has passed away. His over 1,000 stamps are admired and treasured around the world. We at Sweden Post are grateful to have been part of his work."

Mr. Slania is survived by a daughter (living in London), a sister and other relatives in Poland.

Services were held March 24 in Krakow.